Island Breeze Villa happily welcomes you!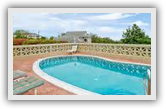 Located 15 minutes from the center of activity in Montego Bay, Island Breeze Villa has a beautiful panoramic view of the Caribbean. Located in magnificent Ironshore Estates, it is only minutes from numerous championship golf courses, tennis courts, shopping, horseback riding and the "Hip Strip" where a new casino is located. For the water lovers, there's scuba diving and snorkeling, deep sea fishing and white sand beaches. Our guests also have free access to Doctor's Cave Beach, one of the nicest beaches in Jamaica. Located only minutes away, it features gift shops, a restaurant, and water sports.
Special Offers
FREE wide-screen TV
50% Discount for Restaraunt service
30% Discount for 3 days+ orders
FREE drinks and beverages in rooms
Exclusive souvenirs
Location
We are located in Ironshore Estates, 15 minutes from Montego Bay.
414 Feilding Avenue, Ironshore, Montego Bay

1-407-846-0441 (US)
1-876-953-8856 (JA)